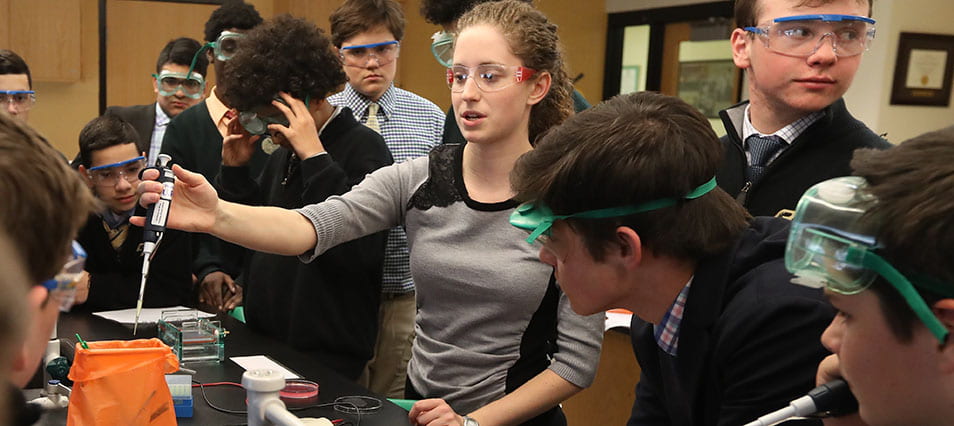 Meet us at an upcoming virtual event
Wednesday, October 21st from 2:00 – 4:30 p.m.
Tuesday, October 27th from 5:30 – 7:30 p.m.
---
Ignite. Inspire. ImPACT.
PACT is 2 years of service, teaching,
learning, and intentional Christian community.
---
Applications for the next PACT cohort are now open
PACT forms teachers for PreK-12 Catholic schools. PACT teachers commit to two summers and two academic years of course work and full-time teaching in Rhode Island and Massachusetts with holistic support from your school, the PACT team, and broader community.
Tuition-Free Master's: Earn a master's degree from Providence College in one of several M.Ed. and M.A. tracks for those with or without an education background.
Teaching in Catholic Schools: Serve as a full-time teacher in Catholic schools throughout Rhode Island and Massachusetts, in placements across subject areas and grade levels.
Community Life & Shared Spirituality: Live, pray, and work together in intentional Christian community, sharing a Catholic and Dominican spirituality with other PACT teachers.
Established at Providence College in 2001, the PACT Program is a unique teacher education program that invites recent graduates to contribute two years of service as teachers in Catholic schools in New England. PACT is a proud member of the University Consortium for Catholic Education (UCCE).
PACT members teach classes in language arts, English literature, British and American literature, history, biology, chemistry, physics, mathematics, Spanish, religious studies, and other subject areas. They also coach sports teams, act as advisors to students, and are leaders of school retreats.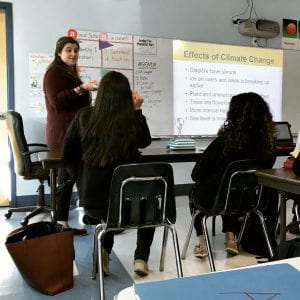 Top of Page: PACT 17 teacher Lisa demonstrates a lab for students at Bishop Hendricken High School in Warwick, RI.
Right: PACT 18 teacher Elizabeth with her senior social justice class at Notre Dame Cristo Rey in Lawrence, MA.