Professional Studies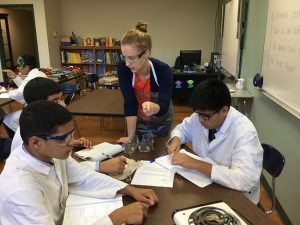 PACT offers an integrated program of study and two years of supervised field experience which introduces students to the profession of education and enables them to develop as highly competent educators.
PACT programs of study are based on current educational research and practice and draw their inspiration from the traditions of Catholic education.
PACT programs of teacher education lead to a Providence College Master of Education degree.
PACT offers a range of teacher education programs which have been approved by the State of Rhode Island Department of Education. Dependent upon the program, graduates from these programs are eligible for initial certification as secondary teachers, or if already certified as a teacher, for an additional certification in special education, literacy, or school administration.
Graduates with certification as secondary teachers and with a major in history may study for a Master of Arts degree in history.
Courses for the secondary teaching program are completed during the two summers of the PACT program.
Courses in programs for education graduates are studied during summer and each of the four semesters in the two-year program.