PACT in the News
Welcome PACT 16
The 22 members of PACT 16 arrived on the Providence College campus on June 1, 2016. PACT 16 members are graduates of Providence College (4), Boston College, Franciscan University (4), the University of Indiana-Bloomington, the University of Wisconsin-Madison (2), The University of Notre Dame, Loyola University Maryland, The College of the Holy Cross, Stonehill College, Saint Anselm College, Saint Michael's College, The University of Alabama, Gonzaga University (2), and Binghamton University.
Next year, PACT teachers will be serving in grades 2-12 in four dioceses in New England. PACT has also partnered with the Providence-based Haitian Project to provide teacher training to a Providence College graduate who teachers at a Catholic school in Port-au-Prince.
Welcome to the PACT community and best of luck with your summer preparations.!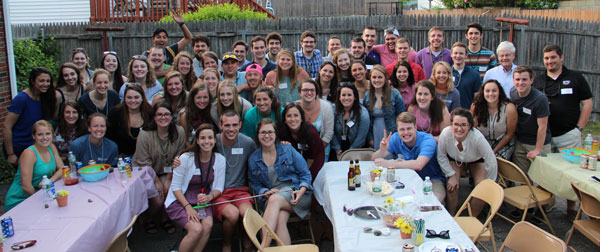 Congratulations PACT 14 Graduates
On Saturday, June 11th, 2016, the 20 members of PACT cohort 14 were celebrated at PACT graduation at Providence College. Over the past two years of service, PACT 14 members distinguished themselves by a close sense of community, a positive, upbeat attitude, and by their many contributions to their PACT schools.
Next year, 9 PACT 14 members will continue to teach at their PACT schools. Others are headed back to their hometowns to teach in Catholic schools in places such as Indianapolis, Pittsburgh, Washington State, Virginia, Maryland. Congratulations to PACT 14 for all that you have accomplished!
PACT Members Gather for Winter Retreat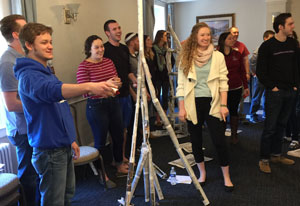 On the weekend of March, 2016 PACT members gathered at the Connors Retreat Center in Dover, MA to participate in our annual retreat. The theme of the retreat tied into James Martin's book Becoming Who You Are, which is also our reading for the Integrative Seminar course. The retreat leader was Mr. Lee Hubbell, director of the LU Choice program at Loyola University Chicago, a member of the UCCE. Highlights of the retreat included a lectio divina, a guided examen, the construction of a "paper tower" in groups, and plenty of reflection on our roles as Catholic educators. It was a wonderful opportunity, situated in this Lenten season, to reconnect with ourselves and with our mission as educators. The retreat closed with a liturgy celebrated by Fr. Peter Martyr Yungwirth, O.P. of the Providence College Campus Ministry office.
A Ministry of Presence: Laila Ettefagh (PACT 14) Leads Students on a Mission Trip to Ecuador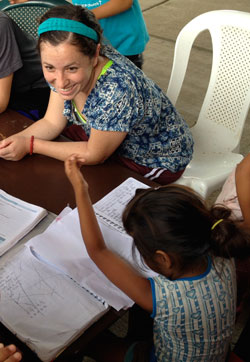 Over Thanksgiving break this year, I had the privilege of leading a group of 12 students to Arbolito, Ecuador, a small neighborhood in Duran. Through this trip, I served as both a chaperone and retreatant with the Rostro de Christo volunteer corps, and the work was centered in the ministry of presence: instead of trying to build or give things to the people of Duran, we simply were with them. In neighborhood visits, after school programs, and trips to the Damien House, a hospital for patients recovering from Hansens disease, the students and I worked to build community with one another and all those we met, showing love and experiencing Christ together. Through this trip and my time in Ecuador, I not only was afforded the chance to have such an incredible experience, but also go the incredible gift of seeing my students transform and grow in their faith and community. This was truly an experience that I will carry with me for the rest of my life. As I grew to love and cherish my students and the people I met even more throughout the week, one thing became abundantly clear: yes, it is possible to be poor in "things", and that is a shame. However, it is also possible to be wealthy in people, Christ, and love, and that is what truly nurtures joy.
PACT Teachers Make a Pilgrimage to see Pope Francis
During the weekend of September 26-27, 2015, seven PACT teachers made the trip to Philadelphia to celebrate the World Meeting of Families. Lizzy Westbrook, a PACT 15 teacher, recounts the experience:
"Traveling to Philadelphia for the World Meeting of Families was truly an amazing experience. I expected the trip to be exciting and fun, but I did not expect it to have such a profound impact on my faith. While Pope Francis is the leader of the entire Catholic Church, a huge responsibility and honor, he was so normal and beautifully simple in his interactions with others. His passion and excitement for the Gospel and social justice were honest and real. It was incredible to see a man with so much power and responsibility acting so human, for lack of a better word. I do not speak Spanish at all, but I do know a few words. One of the most profound moments for me was during Pope Francis's homily on Sunday. One word that I was able to pick out again and again was "pequeño," which means small. Thanks to the English subtitles displayed on the jumbo-tron, I was able to see that Pope Francis kept saying "pequeño" in reference to the small ways that we can show our love to one another. It was refreshing to hear the leader of our Church say that the small things we do are enough, and while we should always strive to be saintly, we do not have to something drastic or huge to show our love to one another and to God. I am so thankful that I got to share this experience with some of the PACT family and hundreds of thousands of my brothers and sisters in Christ." 
Summertime Excursions around New England
While the PACT summer has a demanding course load, PACT students still have time to explore beautiful New England. This summer, PACT students explored the Providence and Boston areas, along with the beaches and coastal towns of Southern New England. Two highlights were a camping trip and a July 4th party on Cape Cod hosted by the PACT Hyannis community.