Application and Admission
Applications for our next PACT cohort will open on December 1, 2019!
Earn a tuition-free Master's degree while serving students in PreK-12 Catholic schools. See the Application Instructions for details regarding the application process. A note that application materials may be edited between now and the December 1, 2019 posting, but you may refer to existing application materials to get a sense for what is required to apply to PACT. Please contact the PACT office with any questions. We are happy to help!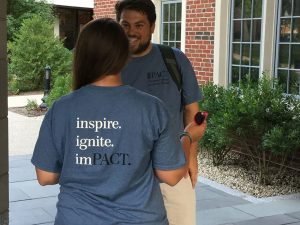 Important Dates
December 1, 2019: Application opens.
February 1, 2020: Application deadline. Interview and placement process begins.
May 1: School placement process concludes.
May 26: First-year summer program begins with arrival at Providence College for orientation retreat.
July 24: Summer program concludes. Teachers depart from campus.
August: PACT teachers report to their placement schools for new teacher orientation as directed by their principals.
Application & Supplementary Materials
Your PACT application consists of the online application, linked below, and the supplementary materials listed. See the application instructions for full details on each of these components.
Official transcripts (current college seniors may submit unofficial transcripts; official transcripts to be submitted upon graduation)
Essays
Letters of recommendation (Download form in .docx)
Test scores
Application fee
Your application is not complete until all materials have been received.
If you have any questions as you complete or submit your application, please contact the PACT office at 401-865-2657 or pact@providence.edu
Online Application