Apply
Earn a tuition-free Master's degree while serving students in PreK-12 Catholic schools. See the Application Instructions for details regarding the application process, and access the online application here. Please contact the PACT office with any questions. We are happy to help!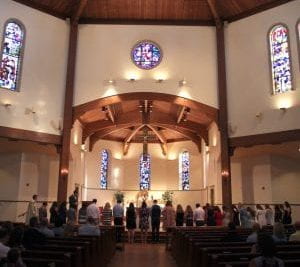 Important Dates
December 1, 2020: Application opens.
February 15, 2021: Application interview and placement process begins. Applications accepted after this date.
May 1: School placement process concludes.
May 26: First-year summer program begins with arrival at Providence College for orientation retreat.
July 24: Summer program concludes. Teachers depart from campus.
August: PACT teachers report to their placement schools for new teacher orientation as directed by their principals.
The PACT application is designed to support you in the process of discerning how God is calling you to use your gifts. If you have questions about anything–the schools, the experience, qualifications, or any part of the application and interview–please contact us!
Requirements of the Written Application
The written application introduces you to the PACT team as well as the principals and administration at potential placement schools. Full instructions are available here. Here's an overview:
Online application:

Information about the applicant and the degree track to which you're applying. Available on the PACT website December 1, 2020.

Official transcripts:

Current college seniors may submit an unofficial transcript with application. If accepted, send an official transcript following graduation.

Essays:

Submit 3 essays, each no more than two double-spaced pages in 12-point font. Full prompts are in the application instructions.

Letters of Recommendation:

The application requires 4 letters of recommendation in the areas of (1) Spirituality, (2) Intentional Community, (3) Academics, and (4) Professionalism. Full instructions and the necessary forms for recommenders are in the application instructions. 

Test scores:

Required test scores depend on the degree track to which you are applying, your background, and your undergraduate GPA.

This table provides more detail

.

Application fee:

The fee of $55 is mailed directly to the PACT office.

If the application fee presents a barrier to your application, please contact our office to discuss financial aid.
Application Process Overview and Timeline
Applications for the next cohort of PACT teachers open on December 1, 2020.
The application deadline is February 15, 2021. Late applications may be accepted on a case-by-case basis depending on applicant qualifications and the needs expressed by our partner schools—please contact us.
Interviews begin in February 2021. The PACT interview process has two stages. 
First, applicants who pass application review interview with the PACT team to determine whether applicants are a good fit for the program and qualified for their

preferred degree track

.
Qualified applicants then interview with administration at potential placement schools. We make every effort to connect each applicant to 2-3 possible placements, and each partner school to 2-3 possible PACT teachers for their requests. Both prospective PACT teachers and the placement schools say "Yes" to each other before a placement is made.
Full acceptance to PACT is contingent on a school placement.
If you have any questions at any point in the application process, please contact the PACT office at 401-865-2657 or pact@providence.edu